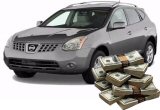 "Word-of-mouth" messaging is the best form for advertising. Therefore, at Rick Hill Nissan, we gladly partner with our customers and encourage them to participate in our "Customer Referral Program."

If you refer a customer to Rick Hill Nissan and he or she purchases a vehicle from us, you will qualify for our "Customer Referral" special offers.

Use the form below to refer a customer.

Rick Hill Nissan
2700 Parr Ave
Dyersburg, TN 38024
Phone: 731-285-6294
Fax: 731-285-4247
NEW VEHICLES SALES
Phone:
731-285-6294
Fax:
731-285-4247
Mon.
8:00 AM - 6:00 PM
Tue.
8:00 AM - 6:00 PM
Wed.
8:00 AM - 6:00 PM
Thu.
8:00 AM - 6:00 PM
Fri.
8:00 AM - 6:00 PM
Sat.
8:00 AM - 5:00 PM
Sun.
Closed
PRE-OWNED SALES
Phone:
731-285-6294
Fax:
731-285-4247
Mon.
8:00 AM - 6:00 PM
Tue.
8:00 AM - 6:00 PM
Wed.
8:00 AM - 6:00 PM
Thu.
8:00 AM - 6:00 PM
Fri.
8:00 AM - 6:00 PM
Sat.
8:00 AM - 5:00 PM
Sun.
Closed
SERVICE
Phone:
731-285-6294
Fax:
731-285-4247
Mon.
8:00 AM - 5:00 PM
Tue.
8:00 AM - 5:00 PM
Wed.
8:00 AM - 5:00 PM
Thu.
8:00 AM - 5:00 PM
Fri.
8:00 AM - 5:00 PM
PARTS
Phone:
731-285-6294
Fax:
731-285-4247
Mon.
8:00 AM - 5:00 PM
Tue.
8:00 AM - 5:00 PM
Wed.
8:00 AM - 5:00 PM
Thu.
8:00 AM - 5:00 PM
Fri.
8:00 AM - 5:00 PM
FINANCE
Phone:
731-285-6294
Fax:
731-285-4247
RENTAL
Phone:
731-285-6294
Mon.
8:00 AM - 5:00 PM
Tue.
8:00 AM - 5:00 PM
Wed.
8:00 AM - 5:00 PM
Thu.
8:00 AM - 5:00 PM
Fri.
8:00 AM - 5:00 PM
Sat.
Closed
Sun.
Closed